---
Did you know that Speedy Fuels is a member of the ECO Stars (Efficient and Cleaner Operations) Fleet Recognition Scheme?
We've received the highest rating of 5 stars, which acknowledges our commitment to improving our operational efficiency, reducing our fuel consumption and cutting our vehicle emissions.
How have we done it?
At Speedy Fuels, we've been offsetting the emissions released from our delivery vehicles since 2012. While extremely worthwhile when used in conjunction with emission reduction strategies, we recognise that offsetting cannot be considered as a justifiable long-term solution. It's not possible to continue business as usual by relying exclusively on offset strategies; we must find ways of reducing our emissions at their source.
Therefore, in June 2021, we took our environmental commitments one step further and switched our delivery fleet to Hydrotreated Vegetable Oil (HVO fuel), a 100% renewable diesel that cuts net CO2 emissions by up to 90%. HVO is a direct replacement for diesel and has approvals from a vast range of OEMs.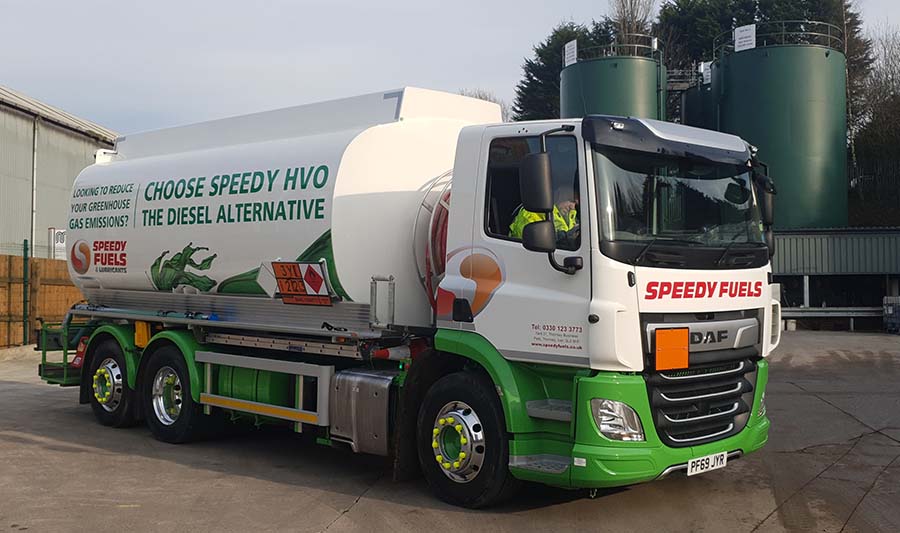 What is the ECO Stars Fleet Recognition Scheme?
The ECO Stars Fleet Recognition Scheme aims to help fleet operators improve efficiency, reduce fuel consumption and emissions while cutting costs to in turn reduce vehicle carbon, nitrogen oxides (NOx) and particulate matter (PM).
The free, voluntarily scheme was established in 2009 in South Yorkshire when four local councils (Barnsley, Doncaster, Sheffield and Rotherham) wanted to tackle local air quality issues caused by transport, particularly HGVs, buses, vans and coaches.
They soon realised that many fleet operators were already making big strides in cutting their emissions and wanted to recognise their efforts while providing practical and expert advice on how to make improvements.
Since, ECO Stars has recently extended to include taxis and private hire vehicles and has now been adopted by other UK council areas, including York, Edinburgh and Warrington and several cities across Europe.
What's involved?
When signing up to the scheme, members receive personalised support with the steps needed to progress through the star ratings. A tailored roadmap action plan is developed for each new member and contains suggestions on how you can improve your performance.
Learn what else we're doing to significantly reduce our carbon footprint here.