---
Keeping your AdBlue storage tank in good condition will ensure many years of continued use
If you are required to use AdBlue in your diesel vehicles and store it on your premises, you will naturally want to ensure that your AdBlue storage tank stays in optimal condition to keep the fluid safe.
Considering that the fuel additive can become contaminated quite easily, it is important that you do everything you can to keep it safe and secure.
If you would like to discuss the installation of a suitable storage tank for your on-site AdBlue or wish to place an order for AdBlue, give us a call today on 0330 123 3773.
Here are a few tips on how you can keep your AdBlue storage tank in the best condition.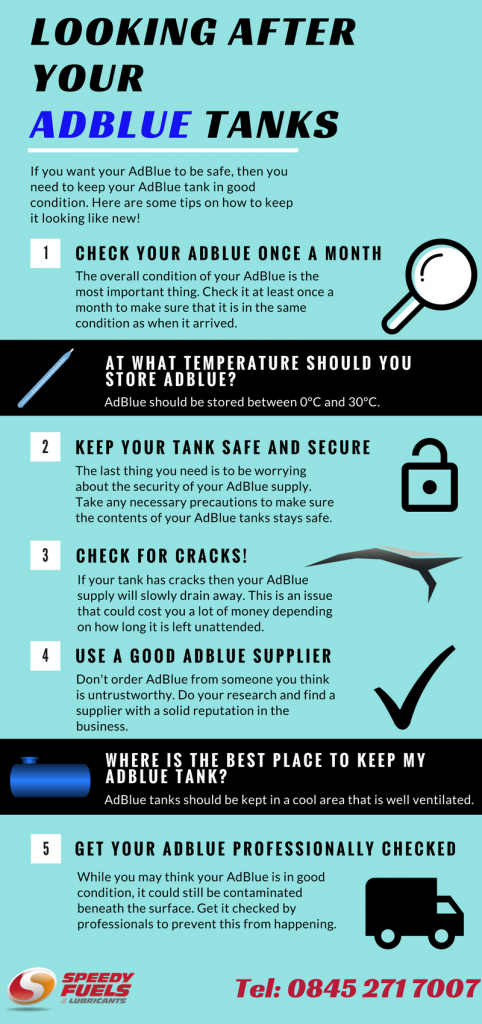 Check your AdBlue once a month
While keeping your AdBlue storage in good condition is important, it's even more important that the AdBlue itself is well maintained. Try and check it at least once a month to make sure that it is still in the same condition as when it was delivered.
AdBlue can become contaminated quite easily, which can lead to bugs. In a large number of cases, the contamination is visible to the naked eye, so it is always worth checking your supply on a monthly basis to assess its condition.
Keep your tank safe and secure
The security of your AdBlue storage should always be a priority. The risk of theft is always there, but there are things you can do to limit the chances of that happening.
Using locks on your AdBlue storage tank is a good place to start. Just the sight of them will be enough to deter most potential thieves. If it's possible, you could even keep the tank in a position where it is visible from a window at your place of business. Then you will be able to see the tank and check that it is okay.
Check for cracks in your AdBlue storage
If any cracks emerge on your AdBlue tanks, it can cause a leak. If a leak goes unnoticed then it could cost you a lot of money to get the tank and the AdBlue supply replaced.
When you are checking the condition of your AdBlue, check the tank to make sure no cracks have started to form. If they have, then it may be a good idea to purchase a new storage tank before your supply starts draining away.
Choose a reputable AdBlue supplier
Never order AdBlue from somewhere that seems untrustworthy. The last thing you need is a delivery of AdBlue that is in bad condition or has already been contaminated. Trying to get a refund from the provider and replacing your supply could cost a lot of time and money.
Just as you would when purchasing your fuel, do a little research to find the right AdBlue supplier for you. If you do research online, make sure you look for the following:
Supplier reviews on Google, Facebook, etc.
Their location and where they can deliver
Their contact details so you can ask any questions
If you can't find all of the information you need on their website, don't be afraid to get in touch with them. Calling them doesn't mean you have committed to a purchase, so you should feel free to ask any questions you have.
Get your AdBlue professionally checked
While you may feel confident that your supply is in good condition, there is always the chance that there could be some form of contamination hiding beneath the surface.
Try and get your AdBlue tested at least once a year by professionals to avoid missing a potential contamination. This will help you keep your supply in the best condition throughout its life.
To find out more about our AdBlue storage tanks and other storage systems, give us a call today on 0330 123 3773. One of our experts will be more than happy to answer any questions you may have.