delivering all the bulk fuel you need anytime 24/7
Speedy Fuels is the perfect bulk fuel delivery company for you. We are a professional nationwide fuel delivery company. We can deliver bulk fuels on the same day or next day or on a date that suits you.
We provide fuel deliveries nationwide, even on a 24-hour basis, to businesses in the UK. With access to a large number of fuel depots throughout the country, we can supply red diesel, diesel, heating oil and kerosene in a speedy manner to any location.
If you'd like to learn more or wish to place an order, our bulk fuel experts can help, simply call us on 0330 123 3773 to find out more about our oil deliveries.

Fuels, oils and lubricants delivered when you need them
We offer a delivery schedule designed to suit your requirements, from a same-day, emergency delivery service to our standard delivery service which ensures your fuels, oils or lubricants are with you within 24-48 hours.
So, no matter whether you require;
Or any of our other fuel products…
We can ensure you get them in the bulk quantities of fuels you need when you need them.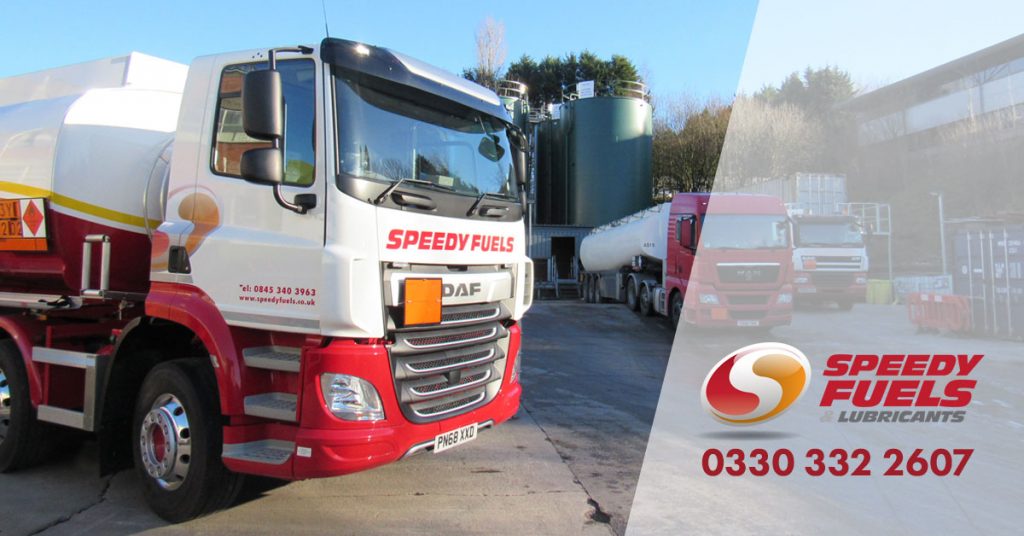 Bulk quantity fuel deliveries across the UK
When you need fuel fast, you can rest assured Speedy Fuels will deliver your fuel on time, every time. Our reliable fuel delivery service is available to any area across the country.
We can supply your business with bulk fuels in any quantity up to 36,000 litres. If you need more, that's not a problem as we'll simply send more fuel trucks allowing for fuel deliveries in excess of 36,000 litres all across the UK.
If you would like more information about our UK-wide fuel delivery services, call our fuels experts on 0330 123 3773 today.
Emergency fuel deliveries at a time to suit you
If your site supplies have run dry, Speedy Fuels can arrange an emergency fuel delivery to you in a matter of hours. Whether it is day or night, we guarantee you a speedy reply to make sure your fuel is delivered to you when you need it.
We can tailor our fuel deliveries to suit your business. We work with you giving us the ability to provide you with the best service possible.
To learn more or to request an urgent fuel delivery, give our bulk fuel experts a call today on 0330 123 3773.
Priority fuel deliveries for your business
We offer a contract retention facility where we will guarantee you an oil supply before anybody else. This facility is offered to all our business customers on most fuel deliveries including fuel oil, gas oil and derv deliveries.
Under this agreement, we promise to deliver your fuel morning, noon or night. This facility is offered to anyone who has a last-minute urgent request.
Why do customers choose our bulk fuel delivery service?
Our customers come back to us time and time again thanks to our prices, our flexibility and our reliable delivery services;
Fast Delivery – Regardless of where you are based in the UK, we can guarantee delivery within 48 hours. We can even deliver within 24 hours in an emergency.
Customer support – We can give you all the information you need and make sure that you are happy with our service every step of the way.
Competitive prices – We offer low prices and great credit terms on our fuels and lubricants, so you don't have to break the bank with your bulk orders.
Quality products – All of the fuels and lubricants we offer are of the highest quality, with many of them blended in-house.
Flexible payment terms – Want to order bulk diesel fuel but a little worried about the cost of buying in bulk? We can help you spread the costs with our flexible payment terms. (Business customers only)
The team here at Speedy Fuels have many years experience in arranging fuel deliveries for our customers up and down the country. So, no matter which fuels, oils or lubricants you need in bulk, call us today 0330 123 3773.
Don't need a bulk delivery? We can also supply fuels in 205-litre barrels along with a minimum delivery quantity of 500 litres for many of our fuels and oils using our baby oil tankers.